Any Design and size
Custom slipcovers for all types of furniture available at Furniture Upholstery Los Angeles. Our slipcovers are truly custom tailored and we can craft exact slipcover as your requirements. We are able to craft slipcovers of variety styles like wingback and rollback styles, scoop arms, English arms and many more. Most of the orders are custom patterned and we craft them to create such product that not only fits your furniture but also enhances style.
Our sofa slipcovers are fully tailored to follow the shape of your favorite sofa. We put hidden front and back zipper to make it more beautiful. With years of experience in custom slipcover design, Furniture Upholstery Sherman Oaks has a huge custom slipcover collection gallery and our workers tailor them perfectly for your furniture
You easily can change your furniture's appearance
With years of experience in custom slipcover design, Furniture Upholstery Sherman Oaks has created a Lounge Slipcover Studio's style and workmanship that has been perfected to create a custom quality slipcover for you.
In our showroom and workshop located in Sherman Oaks and serving the Los Angeles area you'll find lot of suitable fabrics handpicked especially for slipcovers. Such as Denim, canvas, linen and chenille in solids stripes, floral and a few other surprises.
We can craft slipcovers for sofa, chairs, couches and other furniture. A slipcover is the answer to today's active lifestyles. Whether you have children, pets, or just looking to change the ambiance of a room, a slipcover is the perfect solution. While it is a spare cover for your furniture, you can remove them anytime for cleaning. After a wash they look like new one. So, you can see it is much cheaper than re-upholstery service. We make each slipcover form the pre-purchased fabrics and obviously we do the crafting at your home to get the measurement of furniture. In the end, we provide surfeit slipcovers to you and our work is guaranteed.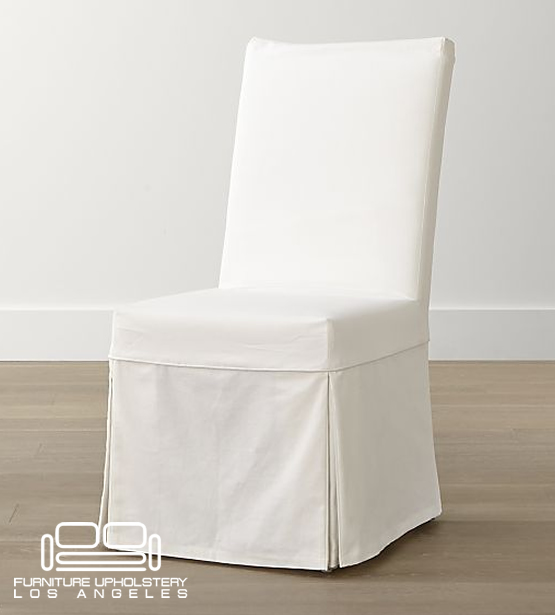 Looking For Custom Slipcovers?
The main matter of pride to us that we have given service at least once to every resident of Sherman Oaks, California. We are able to achieve 100% satisfaction of customers with our expert workmanship.